As you know, all our products are natural and contain no animal ingredients. We use no synthetic fragrances (essential oils only) or colors. In our Moisturizing Stuff!, we go one step further even: we use NO MINERAL OIL. Our moisturizing body lotions are made with pure vegetable oils including Safflower, Sweet Almond and Coconut Oils - although more expensive than mineral oil... we feel YOU'RE worth it! we know you'll feel the difference!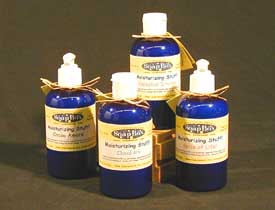 Each of our Moisturizing Body Lotions comes in an 8 oz Cobalt Blue Bottle (shatterproof) and sells for $8.50 apiece.
Cocoa Amore'
...made especially with a rich Cocoa Butter base, this lotion has a slight hint of chocolate (thanks to the cocoa butter) and is completed with the aromatherapeutic touch of Sweet Orange oil. Very protective of your skin - this is a truly luscious moisturizer!
Celestial Dreams
...with Essential Oils of Lavender & Orange, this lotions will not only sooth your skin but your spirit as well! For those of you who love lavender - this one is a must! The blend of Orange & Lavender makes for a very dreamy experience!
Spice of Life!
...with Essential Oils of Ylang Ylang, Vanilla Absolute and Clove, this is a floral yet spicy combination you simply have to try to believe it! It moisturizes and protects your skin - you'll love it!
Cloud #9
...with Essential Oils of Grapefruit, Orange and Vanilla Absolute, you'll feel like taking a bite out of yourself when you're wearing this moisturizing masterpiece! It leaves your skin feeling soft and smooth like a beautiful summer cloud!